Cueva del Chicho: A Hidden Gem ready to be explored
Imagine walking through a tropical lush green forest, surrounded by different type of Fauna and Flora while listening to the echo of the birds chirping. How does it sound? Amazing, right? Well, this is exactly what I experienced on my mini outdoor adventure to Cueva del Chicho.
If you're visiting the Dominican Republic, specifically La Romana or Punta Cana; whether you love going hiking or any other outdoor activity, Cueva del Chicho should be on your adventure list.
It is a magnificent underground cave, located inside Cotubanamá National Park.
I've been wanting to go hiking into the wilderness for several months now, but then the Global Pandemic happened, and the world came to a halt.
I am one of those people that believes physical activities play an important role in our lives to keep our mind and body healthy. 
Being quarantined can increase our anxieties, which lead to stress, and it's no secret it's as fatal to our physical and mental health as any other illness.
So, I planned a mini adventure with two friends, Maria Fernanda and Karina to go hiking to this incredible cave. We took into consideration all the safety measures we needed. This included wearing our masks when needed, (eg. when we had to pay for the entrance fee), being aware of maintaining a six-foot distance if we encountered other hikers, and having hand sanitizer with us.
How to get there
The cave is 26.9km from La Romana and 52km from Punta Cana by car. There's only one way to get there. Once you pass the gas station, the one before Bayahibe, you will turn left at the sign that says, "Cueva Padre Nuestro."
Drive straight on the dirt road, and you will see a security guard and lady outside a little hut, here is where you will pay a small entrance fee. The lady will give you an overview of what you need to know about the park, and she lets you know there's a guide at the park in case you want to have one to explore the cave.
We decided to go without a guide, which as a big foul as we learned the next day there are three caves and not just one as we thought. Please do opt to go with a guide (don't make the same rookie mistake we did).
Trail
The trail is 800 mt long, and it takes around 30 minutes to reach the first cave. It's not a long walk, but I recommend you to hydrate along the way as the Caribbean weather is pretty hot.
Cueva del Chicho
You can find 26 petroglyphs depicted by the Tainos. Once you get inside the cave, you can take a dip into its fresh cold water. If you are a diver, you can swim to another dry cave about 200mts from the first one with a licensed operator from the town of Bayahibe or La Romana.
The cave is big, and there's almost no visibility inside. The way down is slippery, so you will have to be extra careful, which is why you need to have a lantern or use the flashlight from your phone. 
Tips
Things you need to take during this hike or any outdoor activity, remember only to take the necessary items.
Good hiking shoes or any tennis shoes

Sunscreen (always apply before getting to the place and reapply after 30 minutes)

Leggings or any gym clothes (preferably long in case there are mosquitoes or if you fall as I did)

Mosquito Repellent

Hat

Water Bottle (preferably not plastic to contribute with the planet)

Small Towel (for when you get out of the water)

Backpack (to carry all your belongings)

Bathing suit (if you want, but you can jump into the water with your exercise clothes as I did)

Lantern


Conclusion
Would I go again? Yes, Definitely! Now that I learned there are two more caves that I missed, I'm coming back to explore them.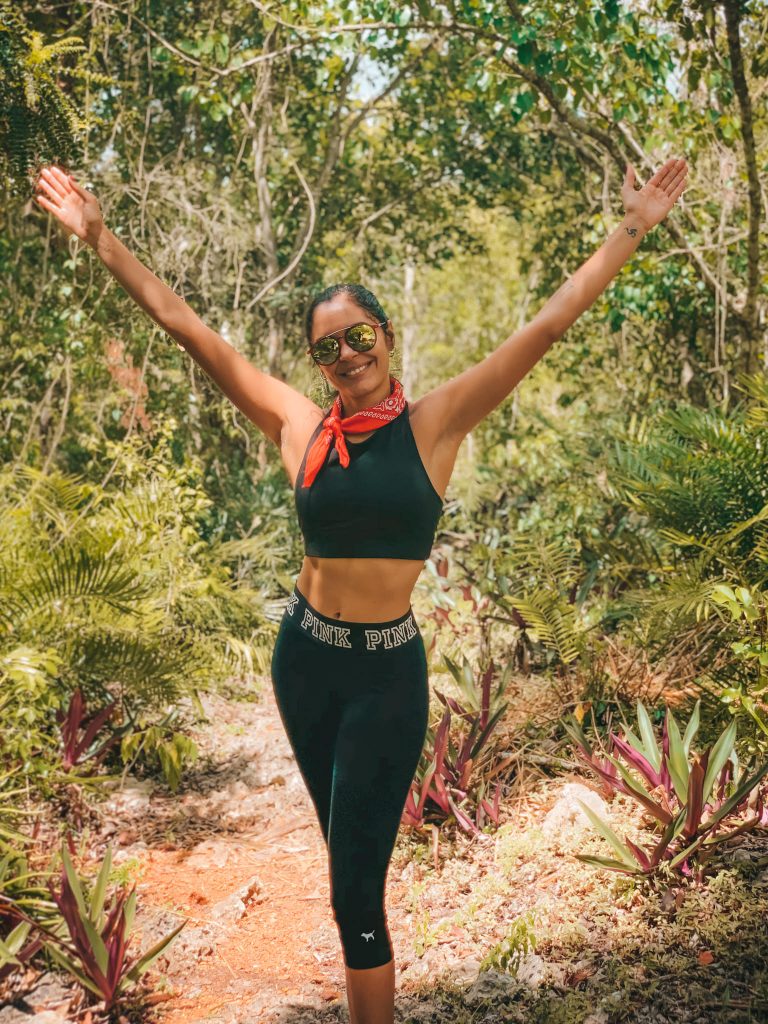 It was a phenomenal experience to hike into the wilderness. It's always a good idea to go outdoors and breathe some fresh, pure oxygen. It is the best medicine to be able to release any stress or overwhelming feelings you've been accumulating.
"Nature never fails to amaze me"
I hope you visit this Cave, and remember to take all the safety measures listed above.
"Create Good Karma"