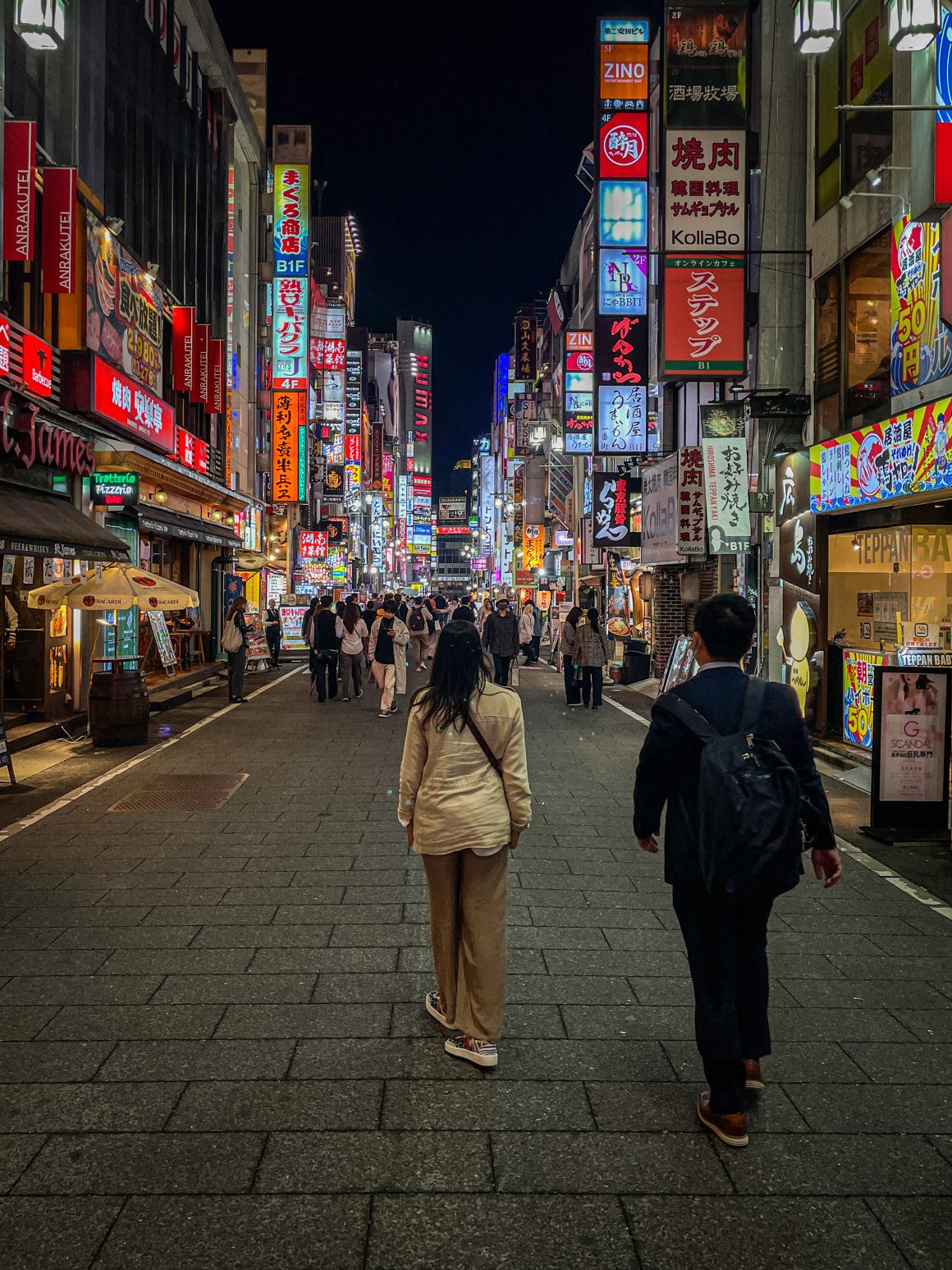 Exploring Tokyo: 10 must do activities
Tokyo, the bustling capital of Japan, a city so unique that seamlessly blends the traditional with the modern. I have put together my top 10 must do activities for anyone planning a visit to this vibrant city. There are so many things to do that you will never be bored exploring Tokyo.
Tokyo never fails to impress. Packed with high skyscrapers, vibrant street life full of neon lights, there's always something new to see.
The following are my top 10 must do activities based on what I did and what I think you should do too.
1. TeamLab Planets Tokyo
One of the best attraction I have visited that you can't miss. TeamLab Planets Tokyo is the world's first interactive digital art museum. Where you walk barefoot through water and immerse yourself in different art installations.
How to get there? Located at Aomi Train Station, Odaiba. Just take the train, as you will see that all the train stations in tokyo are easy to take.
Where to buy tickets? I purchased my ticket directly through their website, it was simple and fast. For the time of admission, there are many time slots for you to choose when to visit. I recommend either the first slot at 9am or late at 6pm. Another tip is to get there before your time, because you will still have to make the line they tend to get long. TeamLab Tickets
2. Visit Senso-ji Temple
It's Tokyo's oldest temple and one of the most significant one. This Buddhist temple attracts millions of visitors all the time. It is an absolute must to witness this spiritual landmark.
No admission Fee.
The temple opens at 6am and closes at 5pm, the early you go the better. I went both during the morning, but also at night. You won't be able to inside the temple at night but you can still explore the ground area and appreciate its beautiful colors at night.
The area is full of alleys with small sweets and souvenir shops which you can take your time and look around. If you like Matcha then you can use google maps and visit the viral matcha ice-cream called Chacha Futatsume. Note- this matcha is not your average ice-cream, it's a 11 layer dessert with lemon cake, sweet potato and red bean.
Click here for viral Matcha ice-cream
3. Stroll through Shinjuku and Golden Gai
Shinjuku is home to countless ramen shops, making it a paradise for ramen enthusiasts. Sample different variations of this quintessential Japanese dish, from traditional tonkotsu ramen to trendy fusion creations. Unleash your inner ramen connoisseur and embark on a culinary journey that will leave you yearning for more. Don't forget to spot the famous cat sign in Shinjuku.
Another key spot is the Golden Gai street where many locals go after work for dinner and drinks. Don't miss going bar hopping around these areas and have some local experience.
4. Watch a Sumo Tournament
Sumo is not only a sport in Japan, it is part of their culture. If you happen to be in Japan at the time one of them takes place don't hesitate to go. I was able to purchase a ticket in advance for a Sumo Tournament during my trip in may and it was very impressive.
National Sumo tournaments happen during odd months; January, May and September but you can also watch during one of their morning practices. Some sumo stables allow visitors to sit in during practice, so check with an organized tour to do so.
I purchased my ticket as soon as it was open to the public to buy it online. It cost me USD $101 on their website and the process to pick it up was straight forward. Sumo Tournament Tickets
5. Go-Karting in Tokyo
One of the main highlights of my trip was go karting in Tokyo. It was such a thrilling experience, I felt like I was inside a Nintendo game. This activity is on demand so I do recommend to book your tickets a month or two before your trip.
Where to book? There are various tours, but I booked it through Monkey-Kart and they were very professional. You can choose whether to go karting for an hour or two and the take you through Shibuya, Shijunku and Harajuku. One of the guide takes pictures of everybody through the time and at the end he shares it with you at no extra cost. You can also take your GoPro and film this exciting experience.
You have to choose your admission time, I went during the afternoon. If I would have to choose again I would have picked to go during the night and see all the neon signs of Shibuya.
Note: This activity requires hardcopy of your international driving permit issued by local authority of your country such as AAA,CAA OR AA and other valid driving license in Japan (such as Local license (Japan) or SOFA license). Foreign international driving permit Hardcopy issued by local authority of each country will be only allowed to drive on real streets of Tokyo. 
Cost: USD $110
Click here to see what Go karting in Tokyo looks like
6. Eat with the Locals
Try some tasty treats like yakitori, ramen oden, gyoza, and other common yet delicious food where locals eat. One of the things I like to do wherever I travel, is to eat where locals go. Even if you don't know the language there is always google translate to help you. Try to go off the beaten path when it comes to food so you can have that real culinary experience.
Omoide Yokocho, or "Memory Lane," is another of Tokyo's best kept secrets. This narrow alleyway is lined with tiny bars and restaurants serving yakitori (grilled chicken skewers) and other Japanese delicacies. With its retro Showa-era atmosphere, Omoide Yokocho offers a glimpse into Tokyo's past.
Another treat you need to try is the Japanese fluffy pancakes. I recommend going to Benisuru Pancakes, located in Asakusa for the fluffiest pancakes. They are so delicious, you won't regret it.
Tip: go early because the place is small and it gets sold out quickly. They accept just a limited amount of people per day. When you get there a lady will come out and will give you the time slots available, you will have to give her your name and come back when it's your turn.
7. Visit Mt Fuji and Stay at a Traditional Ryokan
This is a must experience if you visit Japan. There are various full day trips to Mt Fuji from Tokyo, but if you have time I recommend for you to stay overnight. The apps I use for tours are either Klook or Getyourguide.
Hike up to witness Mt Fuji. It gets packed of many tours, so do get there early around 9am for you to enjoy the view and place without the hundreds of people that visit. Also be aware of the weather when you book a tour because I was lucky enough that it was a clear day when I went, if not you wont be able to see the mountain.
Staying at a Ryokan
Ryokan is a type of traditional Japanese Inn that typically features tatami-matted rooms, communal baths, and other public areas and you sleep in a futon. At many ryokan, you have to take off your shoes at an entrance and change to room shoes, such as slippers and the provide Yukon and pajamas.
I stayed at this Ryokan airbnb which had the most amazing view of Mt fuji from the bedroom. You can also rent bicycles at the front desk and explore the area which is beautiful. I really recommend to stay fro at least two nights and enjoy the are of Mt Fuji.
8. Check out Shibuya Crossing and Tokyo Skytree
Shibuya Crossing is not just an intersection; it is the pulsating heart of the Shibuya district. Surrounded by towering skyscrapers, vibrant neon signs, and bustling commercial establishments, this junction has become synonymous with Japan's youth culture and fashion-forward trends. It is a hub of activity, with stylish boutiques, trendy cafes, and entertainment venues offering an array of choices for visitors to immerse themselves in the lively spirit of Shibuya. Tourists and locals alike gather on the sidelines to capture this mesmerizing moment, making it a must-see attraction for anyone visiting Tokyo.
Whether you choose to immerse yourself in the crowds, observe from above atop at Shibuya Sky or simply appreciate the evolution of this iconic intersection, Shibuya Crossing guarantees an unforgettable experience that truly epitomizes the spirit of Tokyo
No visit to Tokyo would be complete without ascending to the top of Tokyo Skytree, the tallest tower in the city. Tokyo Skytree is a broadcasting tower that also serves as a popular tourist attraction. Standing at 634 meters and offers breathtaking views of the city. The tower also houses a shopping complex and an aquarium. Make sure to take a walk on the glass-bottom skywalk, if you not afraid of the heights.
9. Wander around Harajuku and Meiji Shrine
The buzzing Harajuku is known for its colorful streets, vintage clothing shops and retail fashion. There you will see many different kind of fashion styles and themed cafes. Enter through Takeshita street and just start walking around. This is the perfect place to discover Tokyo's unique fashion trends and indulge your inner shopaholic.
Not far from there is Meiji Shrine, a Shinto shrine dedicated to the deified spirits of Emperor Meiji and his wife, Empress Shōken. Another must-visit Tokyo landmark located within a forest that covers an area of 70 hectare. You can spend the whole afternoon just wandering through the forrest.
10. Go Shopping in Japan
Japan has the best shopping in terms of skincare, haircare and even thrift shopping. Also, do not leave without paying a visit to Don Quixote, it is the place where everybody shops for everything at a good price. You will see this shop everywhere. Akihabara is a haven for tech enthusiasts and anime lovers
I recommend going to the following places depending on what your looking for;
Thrift  and Vintage shopping I recommend you to visit Ameyayokocho, Ueno district and Shimokitazawa.
Electronics goods I recommend shopping in Akihabara district.
Skincare, Haircare, go to Don Quixote
Makeup go to Cosme in Shibuya.
Upscale shopping go to Ginza.
Ginza is Tokyo's premier shopping district, boasting numerous department stores, boutiques, restaurants, and cafes. It's the perfect place to shop for high-end fashion, electronics, and traditional Japanese goods. Don't miss Japan's flagship Uniqlo and its 12th floors of clothing department, which is also located in Ginza.
Conclusion
Tokyo is a city that is constantly evolving, and its hidden gems are a testament to this. Whether it's the old-world charm of Asakusa, the tranquil beauty of Meiji Shrine forrest, the serenity of the buddhist temples, the hipster vibe of Shimokitazawa, or the nostalgic atmosphere of Omoide Yokocho, these secret spots offer a unique and authentic Tokyo experience.
So next time you're in Tokyo, venture off the beaten track and discover the city's best kept secrets for yourself.