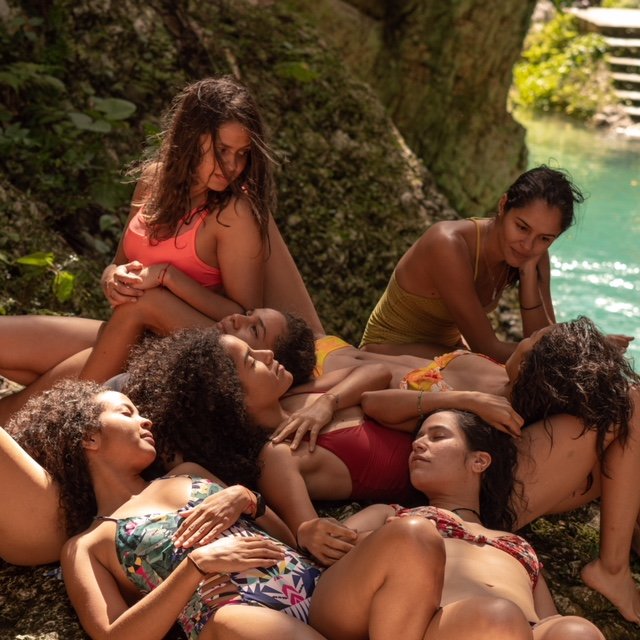 Mujeres de Isla: An Only Women Trip
Mujeres de Isla, or 'Island Women' was the perfect group name for this past only women weekend trip.
"Sometimes we just need to get off the grid to get our soul right."
19 strangers came together from different provinces of my country. All different in many aspects, but all with one thing in common- to disconnect to connect.
Some of us came on this trip to heal some wounds, some came to disconnect themselves from their daily busy routine, and others came to open themselves up by meeting new people, and welcoming them into their lives.
So, when Carla Faxas posted this this "Only Women Weekend Trip" I didn't hesitate, and reserved my spot right away. She didn't give out too many details. Just one rule- to go 'solo', without a friend, best friend or neighbor. Why? So that all of us could get out of our comfort zone to get to know each other better, and make new friends.

Once the trip was fully booked, Carla created a whats app group where she sent a list of the things we needed to bring.

Camping Weekend List:
Utensils (eco friendly brand made from bamboo I just came across from Ceroplast )

Soap, Tooth Paste, Bug Spray

Sunscreen (Eco safe sunscreen from Sunology)

1 Shorts, 1 Leggings, Exercise clothes
The Road-trip
When I arrived to the meeting point at 4am at a specific gas station appointed by Carla, the majority of the girls where already there. In less than 5 minutes we all started talking, laughing, getting to know each other. It was amazing because instead of creating small groups, what usually happens, we all sat on the floor in one big circle.
There was no tension or any awkward feelings like the type you sometimes get when you're in an unfamiliar place with a bunch of strangers.
We ended up leaving at 5:30am- a very Dominican thing never punctual, unfortunately, I guess it's an Island thing.
OH! One thing I was forgetting- and very important- it had been raining for a week in different parts of the country. As a result there was a change of plans the day before our trip. Carla decided to change the location due to safety reasons. None of us complained, and now we were heading South instead of going to the North of the country.
Polo, Barahona
3 hours later we arrived in Barahona. We stayed in a small community called Polo.

The feeling I got was hard to explain. Seeing all of the kids playing looking at us with those curious eyes and waving with big smiles was beyond surprising. You could feel the good vibes, good energy of everybody in town.
We were going to camp outside but in the garden of a orphanage instead of being completely isolated into the wild- like it was originally planned.
After we unpacked we started building our tents. All working together as one, helping each other- that's what I call strong women!
After everything was settled we got into our bathing suits, hiking gear and headed out for an adventure.
1st Day- Saturday

That afternoon activity consisted of walking 1 hour, passing through some coffee plantations and trekking until we reached our destination.
It was the most breathtaking view my eyes had ever seen. The first river we encountered had a mini waterfall. Within few minutes we all forgot about the tiring hike we just went through.
I was in awe with its crystal clear water and I wasn't the only one mesmerized with this hidden treasure spot.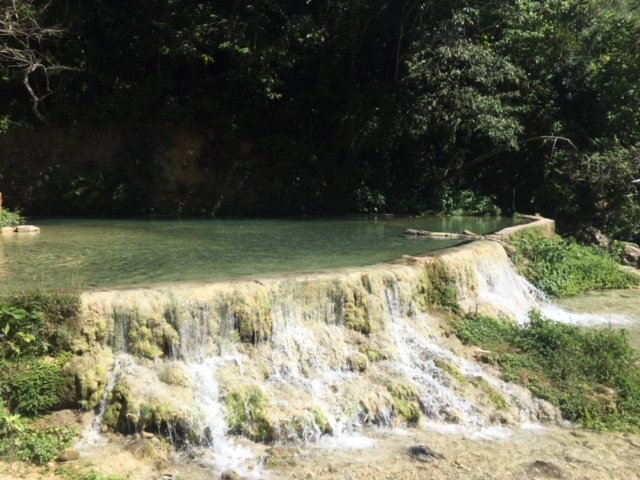 It was the most breathtaking view my eyes had ever seen. The first river we encountered had a mini waterfall and for those few minutes we all forgot about the tiring hike we just went through. I was in awe with its crystal clear water and I wasn't the only one mesmerized with this hidden treasure spot.

We didn't think twice. We took our clothes off and jumped straight into the water.
It was the coldest water I had ever been in, but it was worth it. We spent a couple of hours there, some stayed near the shore or went exploring and some (like me) climbed up the rocks to jump off from a higher place.

I got the chance to see the kids from nearby villages arriving, and jumping straight into the water. It so was nostalgic seeing them… it just reminded me of my own childhood when there were no ipads, no smart phones, just toys and other kids to play with.
When the time came to head back to our camp site, some girls decided to stay back, and go later- like me. The rest to left with what we call here in Dominican Republic, 'motoconchos', which is basically a small motorbike, nothing fancy.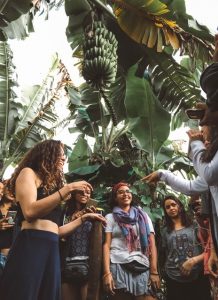 Later that afternoon we visited the house of an old lady who showed us how they make their famous coffee from scratch. The process is insane, there's so much work that goes into it. We really enjoyed that experience, and loved how humble and nice the lady was with all of us.
Night Time
As part of the night activity, we all wore long skirts and sat next to a bonfire. We had a women's circle which was pure magic. After we finished we brought our dinner outside, sat together, and bonded with each other.

It was pretty cold, so my recommendation would be to take extra socks because even though we are in the Caribbean it does get cold at night.
Last Day- Sunday

We had an acroyoga session for 2 hours. It was my first time, and I loved it to so much that I decided it's going to be my new hobby.

After the acroyoga we had breakfast, and went into town to explore their Sunday Market. It was like a 10 minutes walk from our camp site. Once there, you could see many vendors. Some were shouting in order to get your attention, and some where just sitting around waiting for you to stop by their stand. The majority came from other provinces of the country in order to sell their stuff.
We had a really good time, and I'm pretty certain that we all bought something. Every stand had good deals, and you could bargain the price of whatever you wanted.
Afterwards we decided to go into a 'colmado', or what you would call a simple 'mini market'. Bought 'Presidentes' which is the typical, and most popular beer in the DR. It started to rain, but this didn't stop us- the owner of the colmado turned the music up as he saw 20 girls together. Carla started dancing salsa in the rain with Laura which led some of the other girls to join as well.
As soon as the rain stopped we started heading back to the camp site to go back to the city.
We arrived in Santo Domingo at 9pm on Sunday. Even though it was a long ride back, and we were all tired, when the time came to say goodbye, nobody wanted to leave.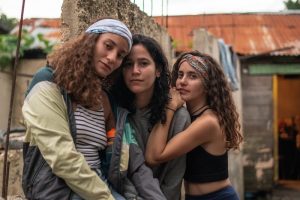 To be grateful means giving thanks, and I really want to thank Carla Faxas and her team, Gabby, Melina and Ana for organizing this women's trip, and for being such amazing troopers.
Because of them, we all got something out of this trip- 19 new friends, a new perspective, new hopes and new anecdotes.
For some of the girls this was their first women's trip, for me this was my second and definitely not my last.
Conclusion
I really recommend everyone to go at least once on a solo women's getaway- Just DO IT!
Take a chance and go with it, don't overthink, don't go with any expectations, just go with an open heart.
We need to get rid of this mindset that women can't go on trips together. That we can't empower each other, that it's only gossip, and competition around us which prevents us from bonding. It is not true! 
WE can be best friends, and WE can support each other. We need to change this label that society has put on us, and prove them wrong.
If you want to experience something different, get out of your comfort zone, and be open to new adventures.
YOU don't have to follow or live by what society calls 'right standards'.
It is okay to live the life YOU want, under your rules. If you want to travel by yourself go, and DO IT!
Invest in your happiness, because this is what life is meant for, and trust me, you will have a good time, but most importantly, you will create new friendships along the way that will last forever.
Enjoy some of the pics we took during this trip…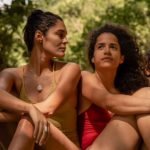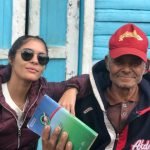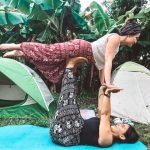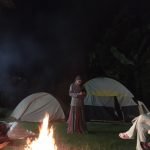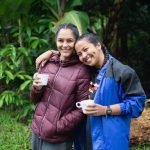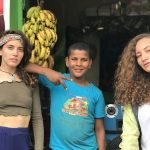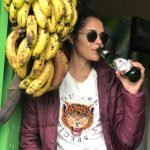 "Create Good Karma"