Roadtrip to the South of Dominican Republic
Road-trip to the South of Dominican Republic. How did this happen? Let me tell you how…
I won a giveaway to go on a road trip to a province located to the south of the country for one full day with two fantastic influencers, Andreita and her husband Manny. 
They said I could take a friend, so I did, and it was perfect! It was the most chill, laid-back, super relaxed Saturday I could have ever imagine.
My day started really early as my friend and I had to drive from La Romana (where I live) to Santo Domingo. It's only a 1.5 hour drive but I'm just not the early riser kind of person but when adventure calls I'm all in!
We met with them at their house, and left at 9:45 am en route to Bani, south of the country.
This trip started with a lot of excitement, firstly because only my friend & I knew each other and it was the first time meeting Andreita & Manny. We all hit it off really well – no awkwardness.
We started heading towards Bani which is only 2 hrs away from the city, so not that far. Perfect distance if you want to escape the city madness anytime.
Bani is the capital town of Peravia Province of Dominican Republic. We had to go through this town in order to reach our destination. It is a small town but it has a unique charm, with places worth visiting.
During the drive to Peravia the scenery changed completely, I started spotting mountains, lakes and miles of the greenest fields of grass – it felt so peaceful just looking out the window.
The Salt Mines of Salinas
Once we reached our first destination I couldn't believe what my eyes were witnessing. This place is so gorgeous that I was in awe by the different color tones of the water. The lake is divided by different sections and each section had either grey, blue, yellow or pink water – but there is a reason behind this spectacular picture perfect place.
The reason the color is pink is because of its high concentration of marine salts which occurs moments before the total evaporation of water and subsequent collection of salt.
Tons of salt is produced in this place daily mainly because of the sun, the air and ocean water, which evaporates by a natural process.
"Yes, it was really hot so now I understand how the high temperatures plays a very important role in this process!"
The labor is very old-fashioned since the means of transporting the sacks of salts is by railroads. All of which I found it quite fascinating.
I felt I was traveling back in time and in an old Texan, cowboy kind of movie.
We had some snacks and hydrated at this place, under a small wooden hut we found before heading to our second location.
Before we left we stopped to admire the town's popular spot and now I know why it's so popular- "the Salinas Beach".
This beach was more like a bay but it's view, OMG, was like taken out of a National Geographic magazine. I cannot explain how magnificent this beach/bay is, the royal blue color of the water, it's stillness and the mountains peaking their way out at the back was the final touch for this perfect scenery.
Even though we stayed for a short time, it was enough for me to appreciate how beautiful my country is, specially the South. The time there was enough to breathe in pure oxygen and exhale the toxins out of my body.
The Sand Dunes of Bani
Many people, well everybody, knows Dominican Republic for it's beaches, but there is so much more this country has to offer.
As we arrived at the Sand Dunes I started getting more and more hot & little did I know I was wearing the wrong type of shoes (flip flops). It was the worst idea to bring this type of shoe wear.
Once we started walking through this eternal desert, which stretches for miles and miles, I thought I was going to literally melt because of the heat. To top it off, we were all carrying something- for example, Manny was carrying his photography equipment (hands down to him) because it was a really heavy backpack plus a tripod- what a hero! I thought he wasn't going to make it but to our surprise he was the first one to get to the spot.
It was an adrenaline filled adventure, our feet were burning from the sand. I felt I was getting slapped on the face every time the wind would blow in our direction and it really hurt.
I would love to tell you guys that everything changed when we got there but, NOPE, sorry. After we finally got there we all took turns to do some sand surfing but we got so exhausted within minutes of being there. After two tries each of sand surfing we decided it was enough time for us and decided to leave.
It was so hot that we couldn't even enjoy the hidden gem behind the dune, which was of course the ocean, just there behind all of this parched desert.
Nevertheless, we never stopped smiling and laughing at our very exhausted experience.
Things to take for this type of trip to the Dunes:
Sunblock (a lot)

Bottle of water

Appropriate shoes (would recommend tennis shoes NOT flip flops)
Light clothes (the less the better, no jeans)

Don't carry anything unnecessary

Sunglasses

Some extra clothes in case you sweat and want to change afterwards
We definitely went at the wrong time of the day, it was probably 3 pm when we got there. The temperature got so high to a point we couldn't enjoy it. Don't take me wrong, The Dunes of Bani are definitely a must! Just try to go early morning or late afternoon, do not try to go in between those times.
Punta Arena Beach
The last location they took us to relax. Also located in Bani, south of the country.
There was nobody at this beach but us. It was so quiet and tranquil, exactly what we needed.
We laid down on top of a beach towel and started talking, laughing, just enjoying each other's company and of course the ocean.
"There is something about watching the sunset that soothes the soul"
As the sun was setting down we all remained still, just taking it all in.
Sunset watching makes me feel calmer, and as strange as it may sound it makes my mind go blank all the time I'm contemplating it- my kind of meditation.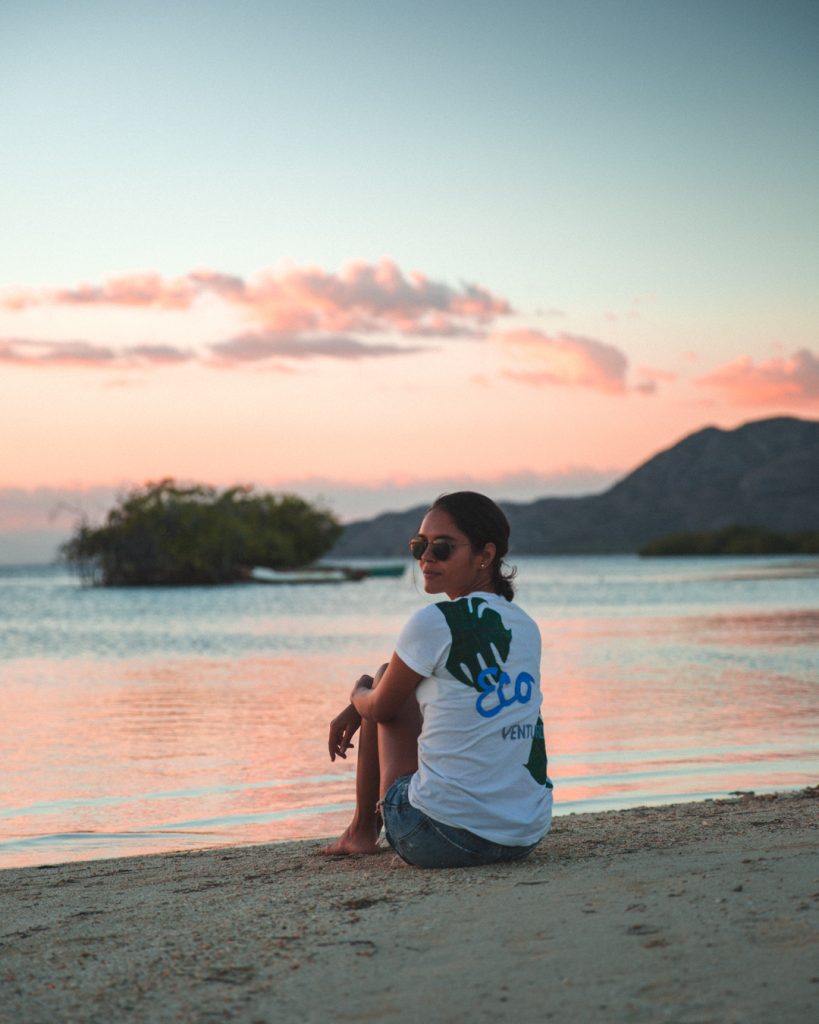 The colors of the sunset were crazy. The intense assortment of orange, yellow and pink painted all over across the sky was one of a kind. It looked so spectacular that we completely forgot about our previous overheated experience.
End of the Trip
Unfortunately it was time to head back to the city. None of us wanted to leave though.
Once we arrived we decided to go for dinner at their friend's restaurant called, La Casa 14.
OMG, this place is so charming, and the food so delicious. They have a small menu which they change every 3 month. It's a pretty cool concept, the way they change their menu this often as they give the clients new and more interesting options to try.
The place has a really cool vibe and energy, plus they have live music. I really recommend everybody to pay them a visit.
Conclusion
It was a marvelous road trip. The perfect combination between the places we visited, the good energy we all had and the right companions.
Even though we just met, we had a good time and the vibes were just right. People might think I'm crazy for going on a trip with two strangers, but isn't that what life is about? Going on adventures, meeting new people, and exploring more?!
This will only happen though if you are willing to be more open minded, and start inviting people into your life without having any expectations or any judgements to others.
Just let it flow.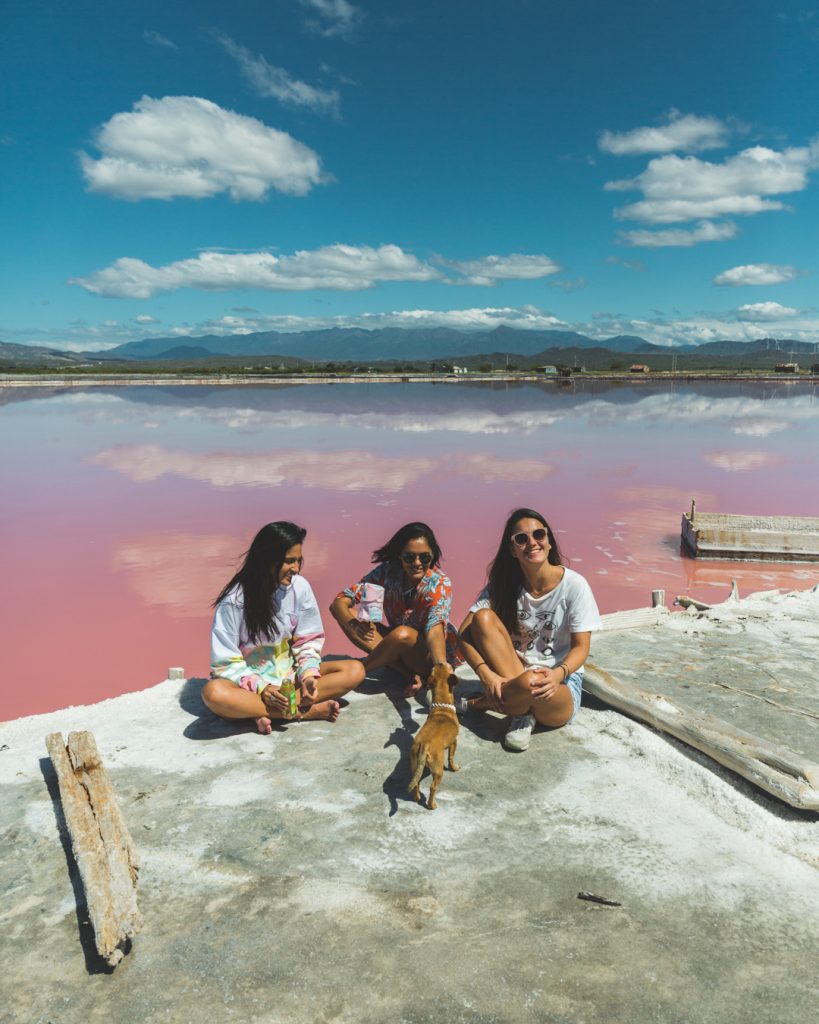 Thank you Andrea and Manny for organizing this full day trip, and my friend Ana who didn't even hesitate for one minute to come along.
It was more than amazing. Loads of fun, and I got to know a little bit more of the south of my country.
After this experience I'm definitely going to start adventuring more within Dominican Republic.
Enjoy this video we took from the Salt Mine.
"Create Good Karma"